KERMAN HARVEST FESTIVAL & PARADE
CARNIVAL: Thursday, September 14, 2017 – Sunday, September 17, 2017
PARADE: Saturday, September 16th @ 10:00am – Download Parade Application
EVENT DETAILS:

Annual community celebration 70+ years and still going! Four-day event opens on Thursday, September 14th at 5:00 p.m. Food, miscellaneous vendors, Paul Maurer Shows Carnival, entertainment, and music nightly – dance outdoors under the stars!
PARADE DETAILS: SATURDAY, SEPTEMBER 16TH
Saturday the 73rd Kerman Harvest Festival Parade at 10 a.m. in downtown Kerman. Parade procession on Madera Avenue; "A" Street to "G" Street.
2017 Parade and Festival Theme: "WONDERFUL WORLD OF SPORTS"
BUSINESS DECORATING CONTEST
Attention Business! The Kerman Chamber of Commerce is kicking off the Harvest Festival with a business decorating contest! This year's theme is: "Wonderful World of Sports" If you're interested in participating click on the link below to download the application. Applications are due by August 28th. Judging will take place on September 7th & 8th.
For more information download entry form: Contest Entry Form
 Kerman Harvest Festival Coloring Contest
Contest open to ages 3 – 12 years of age. Pick up coloring forms at any of the following Kerman business locations: Valley Food Super Center, Garcia's Supermarket, Central Valley Food bank, United Health Centers, Sebastian, Westamerica Bank or download the forms right here on our website. Coloring Contest 2017 
Awards Presented By Darthvader.

The DPL and The Kerman Chamber of Commerce have partnered up to bring you The Kerman Harvest Festival Cornhole Tournament!
Friday, September 15th @ Kerckhoff Park. Bags start flying at 7pm.
For Registration and Information Contact Bobby at: 559 355-9297
Click here for TOURNAMENT FLYER & INFORMATION.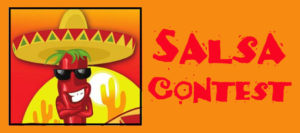 Do you have a Salsa Recipe that excites your guest? Is your salsa the talk-of-the-town? If your Salsa is a crowd-pleaser then this contest is for you! To enter simply download the entry form, fill it out, and turn the application by Sunday, September 17th. Show off your famous salsa at the Kerman Harvest Festival Salsa Contest!