Festival of The American Spirit Fireworks Extravaganza-2023
About This Event
Join Kerman for their Annual Independence Celebration "The Festival of the American Spirit Fireworks Extravaganza" on Monday, July 3rd. A family-oriented evening with kids activities, food, miscellaneous vendors, entertainment and an outstanding display of fireworks! Gates open at 6:00 pm. Fireworks at 9:20 pm. (approx.)
Price: Adult (11+) $10  Gate $9 Presale Child (5-10) $5 Gate $4 Presale
Click here for an event flyer –  Coming Soon!
Sponsorship opportunities now available: 
For Sponsorship details email; [email protected]
Vendor information available: by emailing [email protected]
Information on our Face book page or by calling 559-846-6343
Proudly Sponsored By:  Kerman Chamber of Commerce 
 
KERMAN HARVEST FESTIVAL & PARADE
EVENT DETAILS: Sep. 14-17, 2023

Plans are underway for 2023; 79th Kerman Harvest Festival! The four-day event opens on Thursday, September 14th at 5:00 p.m. Food, miscellaneous vendors, Johnson Amusements Carnival, entertainment, and music nightly – dance outdoors under the stars!
PARADE DETAILS: SATURDAY, SEPTEMBER 16TH, 2023
Join your community in celebration of the 79th Annual Kerman Harvest Festival Parade! The parade starts at 10 a.m. in downtown Kerman. Parade procession Travels down Madera Avenue from "A" Street to "G" Street.
2023 Parade and Festival Theme: "TBA"
4th ANNUAL FALL WALKABOUT & SCARECROW CONTEST-
October 28, 2023
KERMAN'S ANNUAL CHRISTMAS LIGHT PARADE!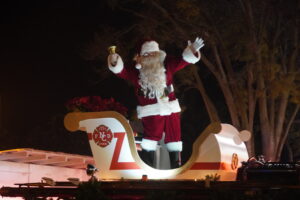 Theme: A Fairytale Christmas
Event Dates:
December 09, 2023 @ 6:00 pm
Holiday Event Flyer: 
Parade Entry Form:
Description:
"A FAIRYTALE CHRISTMAS" is the Pageantry of Lights Christmas Parade theme for Saturday, December 10th at 6:00 p.m. in downtown Kerman. The parade route is Madera Avenue, "C" Street to "G" Street.  Announcer's table located on the median between "D" Street & "C" Street. 
Come to the parade and welcome Santa Claus to Kerman! It's a fun evening of sparkling lights and smiling faces. Tree lighting at 5:30, National Anthem by Kerman High School Choir.
HOLIDAY GIFT FAIR – Saturday, December 9TH
For application, please email a request to [email protected]
Kerckhoff Park- 4:00 P.M. Details to come.
  Food Vendors, Crafters, Entertainment & More